Here's how to add a section (a.k.a. read, or lesson) to a chapter in your FlexBook®:
Sign in to CK-12
Click on Library.
Select the FlexBook

®

.
Click Edit on the left menu.
Click on Add Content and choose either "New Read" or an item from your library. (Note that "New Chapter" cannot later become a subchapter. If you are creating subchapters, be sure to choose "New Read.")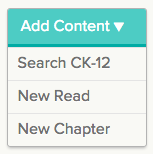 Title the section, add the content and click on Save.
Scroll to the bottom to locate your content, click and drag the "crosshairs" button to arrange your FlexBook

®

.
Make sure the teal arrow next to the destination chapter is pointing downward before trying to drag in the read modality you want to use as a sub-chapter. Also make sure the destination chapter is a chapter (has a teal arrow), and not a read (does not have a teal arrow.) Reads cannot become chapters with sub-sections.